Services
Our comprehensive range of services includes everything from:
Initial design and feasibility studies to pre-development services, detailed documentation, permitting, scheduling, cost estimation, bidding, bid management, and general contracting and construction.
Rely on our team to bring your vision to life with our expertise and attention to detail at every stage of the process.
There is a better way.
The design and construction business is inefficient, cumbersome, and conflict ridden.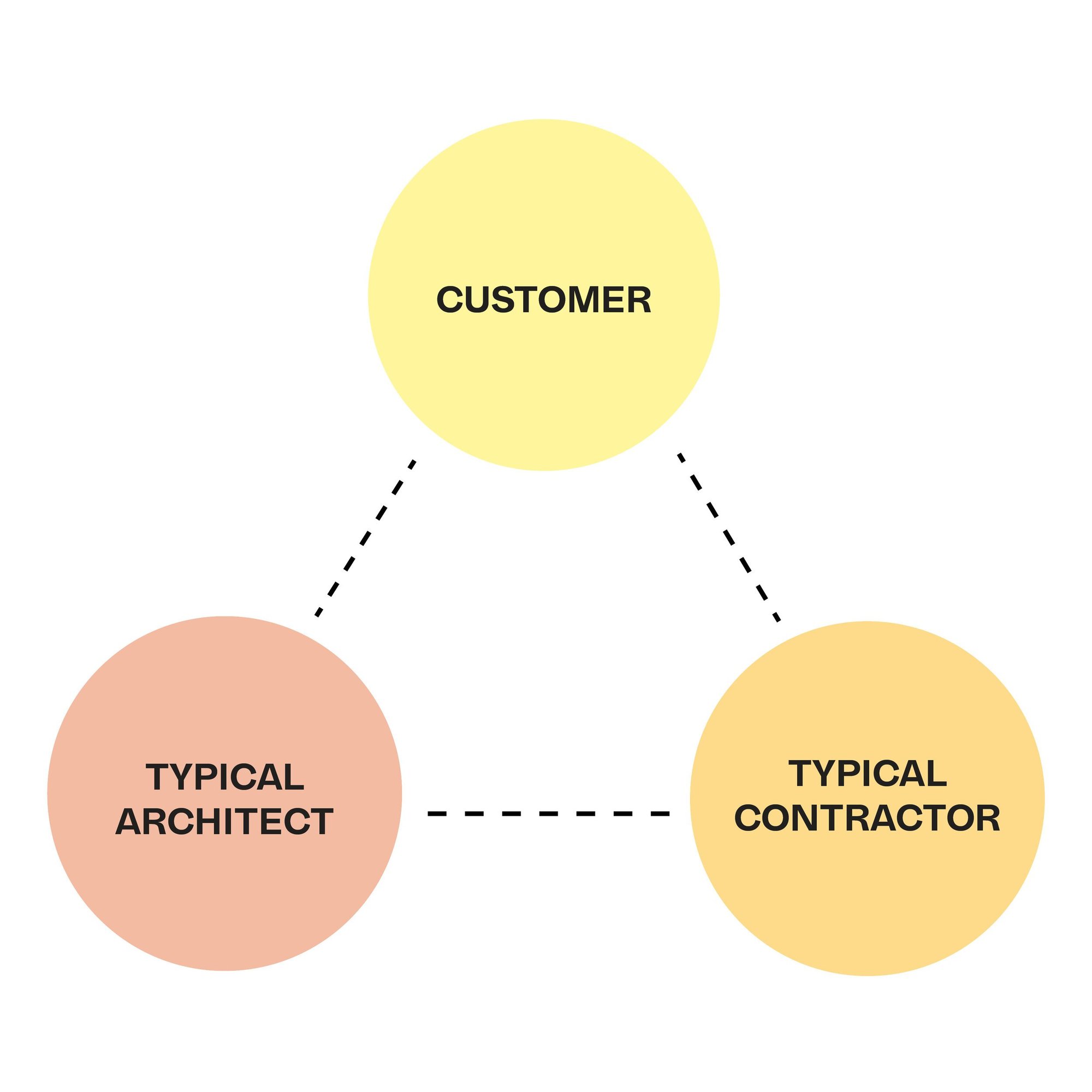 Business as usual.
The typical model for design and construction is broken. It results in a linear, time intensive, and uncoordinated process that is at best cumbersome, and at worst incentivizes conflict, cost overruns, and delays. Information is lost, conflicts are amplified, and you, the customer, are left in the middle to try to manage the process and keep things moving.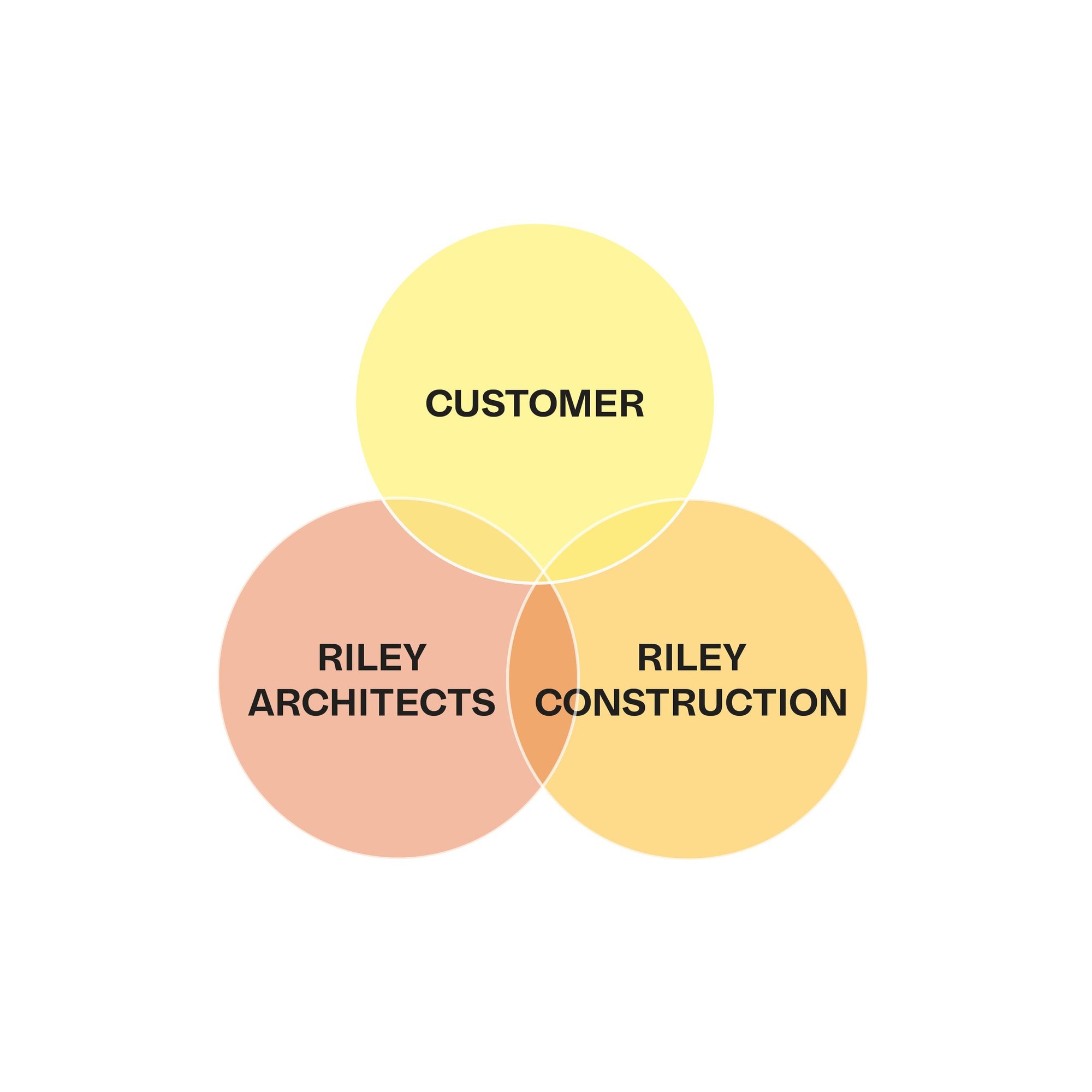 A smarter solution.
Our model aligns the interests of all parties resulting in win-win-win outcomes. Our integrated model with customized contract structures allows for fast-tracked delivery and cost-plus structures that incentivize speed and cost savings, while being backed by our organizational commitments to modern design, exceptional quality, and responsible production.
Our Process
By integrating design and construction, we are able to parallel process key steps in the development of a project, accelerating project schedule and heading off costly redesign earlier in the process. While the typical Design-Bid-Build project can stretch on for years and result in multiple changes in scope, schedule, and budget, our team brings better information to the table earlier in the process and helps the project team make smart decisions about how to proceed.

Planning, Concept & Entitlements
We conduct preliminary project research to understand the project constraints and customer needs. We will work to establish a program and budget, and develop a design concept that fits. If needed, we will pursue required planning and other agency entitlements at the completion of this stage.
Architecture, Engineering, & Interiors
Based on the approved concept design, our architecture team works to document and detail the various systems, assemblies, products and materials needed to produce the design.
Permits, Pre-Construction & Procurement
Using digital 3D Revit models (BIM) to plan, coordinate, sequence, and test, we troubleshoot construction before there is ever a shovel in the ground. Proper planning makes for a smooth construction process. With integrated architecture and construction teams working side by side, our process delivers better outcomes for everyone. While the design team is finalizing construction permits from the local building departments, the construction team is establishing a construction budget and reviewing the delivery process with the customer.
Sitework & Offsite Fabrication
Once permits are issued and the construction contract is finalized, our construction team takes over parallel processing the sitework and foundations, while at the same time coordinating off-site fabrication and assemblies for a higher quality, minimized waste, lower cost, and faster delivery time construction process.
On-Site Construction & Installation
As sitework and foundations are completed, our on-site team coordinates the delivery and assembly of the building, with a tightly scheduled and carefully sequenced process that minimizes labor, errors, and time spent while enabling a higher quality and tighter tolerance final product.
Landscape, Furnishings & Move In
The final steps include installing the landscape, furnishing the interiors, and coordinating customer move-in. Our move-in team will help ensure that you are given a thorough introduction to your new home
Keys to Success
Teamwork & Coordination
We work better, together.
Communication, preparation, and coordination are the foundation of a successful construction project. We operate under the belief that teamwork and clear communication simply deliver better outcomes.
By using advanced information management tools such as Revit and Procore, we keep things in line and provide insight to those that need to know.
Technology, Tools, & Fabrication
Modern craft meets
traditional craftsmanship.
We believe in the power of traditional craftsmanship coupled with progressive materials and applications. Whether it be Japanese joinery or CLT panels, Ductile concrete or clay tiles, CNC milling or hand hewn planks, we are always looking for the best technique to create a warm, unique, custom environment for our clients.
Quality Assurance & Controls
Measure twice,
and then once more.
Inspections and checklists are the backbone of our QAQC process, reviewing progress at key intervals in order to identify discrepancies and deficiencies before they become a problem for project progress.